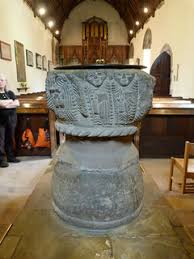 We know that welcoming a new child into a family is one of the most special moments in any parent's life however that might occur. For 2000 years baptism has been the way for Christians to show they belong to the Church. We continue to welcome those who wish to begin there Christian journey at one of our Churches.
The Norman Font at Curdworth is said to be one of the finest examples in the country and has been in use for Baptisms in the Parish for nearly 1000years.
What is Baptism?
Baptism is the start of a journey of faith which involves turning away from sin and towards Jesus Christ. When we are baptised we become members of the Church.
For more information on Baptism and Christenings you can follow this link https://www.churchofengland.org/life-events/christenings/parents-guide-christenings
Our Baptism policy
Our policy is always to welcome families, who live within our Parish or whose parents names are on our electoral roll, to hold their child's Baptism at any one of our three Churches. If only a simple ceremony is required and no venue needs to be booked for afterwards we can hold a baptism within our normal service relatively quickly. However, if you want a more bespoke service and have a venue in mind then it is unlikely that we would be able to accommodate those requests at short notice.
We are also happy to welcome those who have a strong connections to the parish for many reasons. However we are not required to undertake the baptism and it is at the discretion of the Rector, as such we may not be able to offer you the dates you wish and we quite often have to offer dates some way into the future. If you live outside the parish we would require a family to seek "the goodwill of the vicar" in whose parish you now live.
A note of caution: Please do not book any venue for a celebration afterwards until you have had a date confirmed by us in writing.
Baptism preparation
We like to get to know you so that your child's baptism is personal to you, so we expect families preparing to have their child baptised to attend our Family service which is held at 9.30am on Sunday mornings regularly before the baptism at one of the Churches in the Parish, ideally this will be twice a month. You would need to discuss other options for preparation with the Rector if this is not possible for you.
When does baptism take place?
In The Church of England ideally baptism should take place in the main Sunday Service, but we recognise that for many families this is not convenient, and as such we are happy to put on a special service for you and your family. This is usually at 1.30pm on a Sunday, but we are happy to consider other days as well and lasts for about 40 minutes. We would ask that the family then attends the next family service after the baptism to collect the baptism certificate and be welcomed into the Church family.
What does it cost?
The simple answer is nothing, and we never charge for a baptism. However, it costs us about £1200 a month for each of our grade II* churches to be kept open, so that they are available for services to the community such as a baptism, we do therefore ask for a voluntary donation towards the running costs of the church and other materials associated with the service, certificates, candle, heating, lighting, service sheets etc. (suggested minimum £50) and we would also ask that you let guests know in advance that there will be a collection at the end of the service, again towards the running costs of the Church.
Godparents?
There should be a minimum of 3 and (2 who are the same sex as the child and one of the opposite sex) we suggest a maximum of 5. A godparent must be baptised so to avoid embarrassment it is worth checking when you are asking people to be a godparent. More information about choosing a godparents can be found here:
https://www.churchofengland.org/life-events/christenings/parents-guide-christenings/choosing-godparents
Taking on the role of a godparent is not to be taken lightly and advice for godparents and what the role entails can be found here:
https://www.churchofengland.org/life-events/christenings/guide-godparents
What now?
If you wish to continue then the simplest way forward is to email Revd Noel at [email protected] to check availability and also to discuss any other questions you may have and in the meantime complete the form below.
Going forward
Baptism is only the beginning of our Christian journey. We hope that you will continue to be part of the church family. We will do all that we can to support and encourage those who have been baptised as they grow in faith. Baptism is only the first part of the whole process and there is an expectation that at a later date a child brought to baptism should be confirmed. We would encourage you to talk with your child about confirmation. In the meantime we will keep in touch with you all on a regular basis to answer any questions on faith you may have.